Mercado Libre BrandLab
The "in-house" creative agency of Mercado Ads.
THE BRANDLAB
I worked hand to hand with Mercado Ads to develop the Brandlab: a team inside Media.Monks that that specializes in e-commerce creative content and brings strategic and creative opportunities to the marketplace's biggest brands in LATAM, such as Unilever, Diageo, Samsung, P&G, L'Oréal, Whirlpool, Reebok, etc.
This are some of our projects:
SPEAKEASY MARKET – DIAGEO
Diageo (Johnnie Walker, Tequila Don Julio, Buchanan's, Tanqueray, Baileys, etc) was going to launch their liquor store inside MercadoLibre. We needed to create an umbrella concept that would attract the audience and separate the brand from it's competitors with a unique offer and at the same time let all this brands coexist keeping their brand positioning.
THE IDEA
We created the SpeakEasy Market, the first Liquor store hidden inside a marketplace, with a secret link to access only shared by key influencers with their followers, unique drinks, cocktails recipe tutorials, special offers and even their own rules: "Do not share this page", "Screenshots are forbidden", etc.
As soon as we launched, like most exclusive and secret places, everyone was talking about it, and of course, breaking the first rule, luckily, because after all, we made it to sell.
RESULTS
8MM people reached
110k visits to the SpeakEasy / 100K USD in sales.
Brand Lift results +7 points growth on purchase intent and +7 in message association
REEBOK
With the brands new positioning "Life is not a spectator sport" we wanted to help the consumer to start a new sport, routine, or activity. Increasing brand awareness and mostly enlarge the favorability in the marketplace, while pushing sales.
IDEA
We found a new enemy of sports and activities: Mondays.
A day that is supposedly the best day to start something new, but in reallity it has failed to most of us once and again. That is why we declared the war to Mondays, and created the campiagn "Start today, not Monday", incouraging the audience to start a new activity any day but Mondays, with all kinds of benefits and discounts when buying Reebok products inside Mercado Libre, every day of the week except Monday.
L'ORÉAL
The goal was to drive relevance in the shopping experience, and create a make-up and skincare educational platform inside MercadoLibre that increases sales online. We made Beauty.Click, a unique experience with new normal beauty tutorial videos from influencers with a one click option to buy all the products in the tutorial inside the e-commerce.
RESULTS
The results where bigger than expected: 14X ROAS, 10% increase in new buyers, and +7 points growth on purchase intent (Brand Lift results).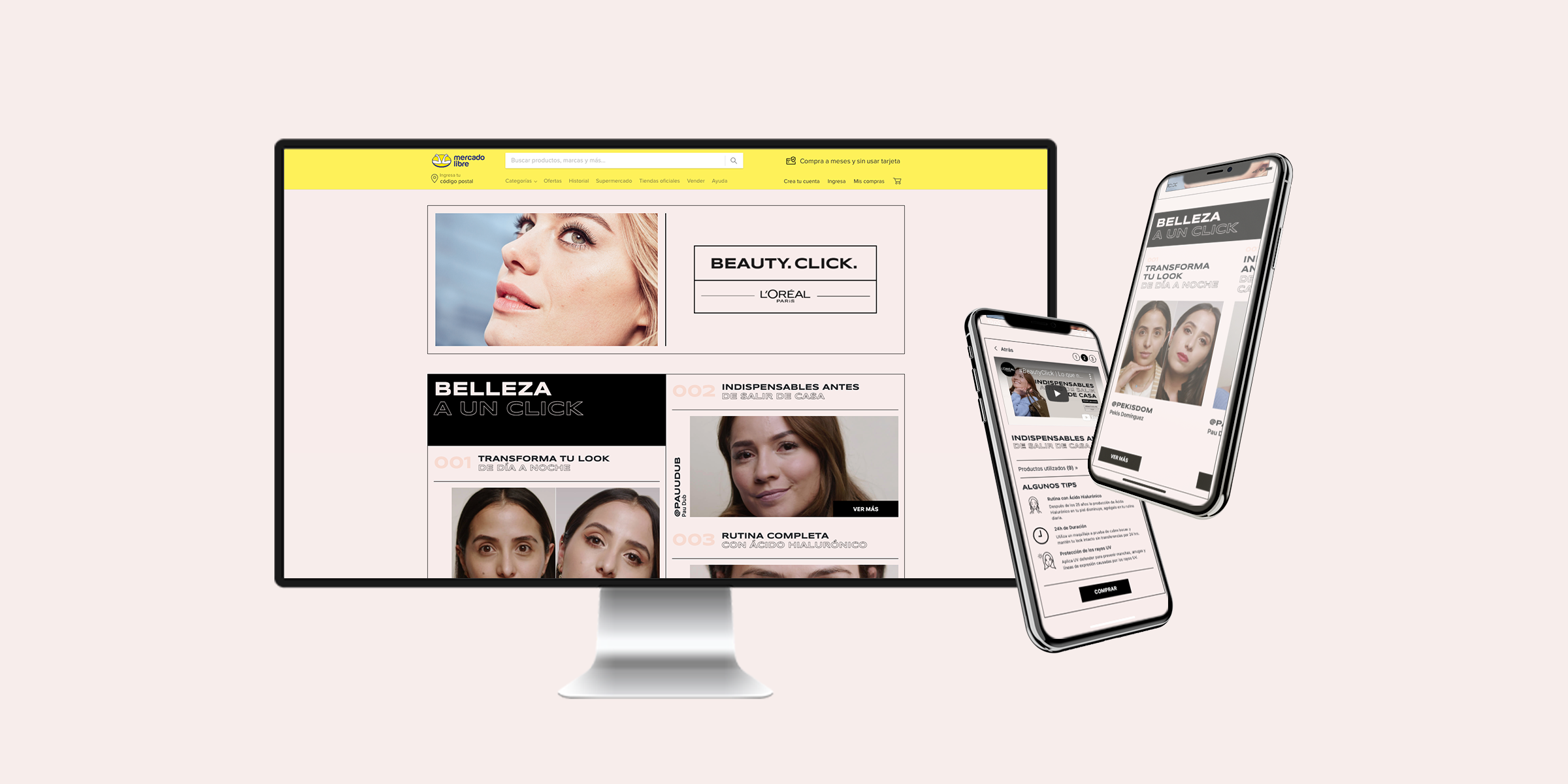 JADE COOK
JadeCook is a kitchenware brand strongly positioned in TV shopping, with a target audience of women +55. But, for their digital approach, we had to change everything, from their target (men and woman 22-35), to the voice, image and concept.
THE IDEA
As most people is talking about digital wallets, cryptocurrencies, and other types of online payments, we came up with an idea to challenge the audience, and even MercadoLibre and MercadoPago: Let´s give the buyers the chance to buy using their own recipes as a currency.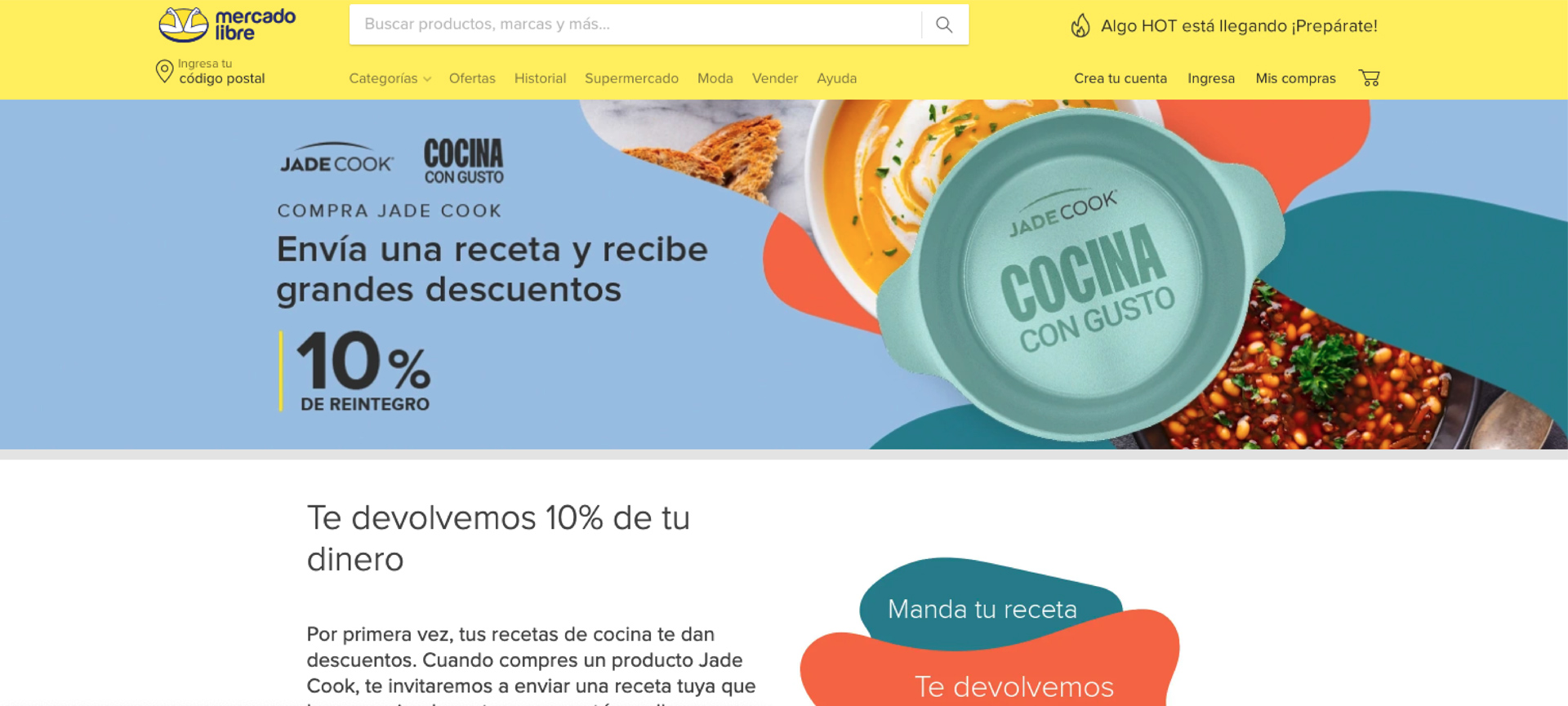 Buyers could exchange their recipies for real money in Mercado Pago and pay their JadeCook products with it. We got hundreds of recipes, and now we are building the first recipe book with USG. A totally new approach for the brand that is moving from a product centric TV strategy to a User-Centric digital strategy.